Avoiding Drama In Your Life To Fully Thrive…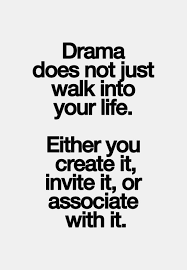 Pretty much everyone who knows me on a personal level know that I try to always be a very positive individual. I do everything in my power to avoid drama, and in general, have friendly and positive interactions with everyone I know. I try to not dwell on negative life situations when they come up, and move on as quickly as possible.
But, sometimes things come up that you can't avoid, and sometimes you get pulled into drama that you can't avoid.
Yesterday unfortunately was one of those days for me.
After dealing with over $2,000 worth of Credit Card fraud all morning, and then nearly getting in a fight in the evening, I realized for the first time in a long time how much drama really does suck the energy out of you, and how important it is to fully remove yourself from everyone and everything drama related.
Watch today's video here for the juicy details, and more importantly, a lesson that I hope you take and impart in your daily life immediately.
Did you get value out of today's post, "Avoiding Drama In Your Life To Fully Thrive…"? If so, don't forget to leave me a quick comment, and to share on social media!
To Our Mutual Success,
Misha Wilson

P.S. Are You Struggling To Generate Traffic And Leads For Your Business? If so… Checkout THIS FREE VIDEO… Where I Reveal The Simple 4 Step "Traffic Hack" Which Unlocks Upwards Of 29 Sources Of Red Hot Traffic, Effortless 300+ Lead Days, And Huge Profits For You And Your Business, All In Under An Hour A Day! Click Here For Instant Access Now!

Misha Wilson is known as the youngest and fastest growing traffic and conversion expert on the Internet. He's known for his ability to bring hoards of cold traffic to any website he wants, and then convert that traffic into high ticket buyers and a group of loyal fan customers. If you're struggling to either get traffic to your website or convert your traffic into big sales, Misha is your guy.