Convert By Frank Kern, Convert Book Review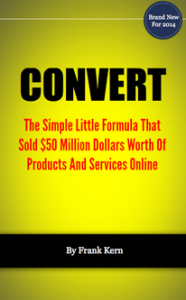 Convert By Frank Kern, Convert Book Review
Over the last few days I re-read Convert By Frank Kern. It's a great piece of Marketing material in of itself, how it serves as an irristable front end, "free+shipping" offer for Franks business, and the content is pure gold if you're an Online Marketer.
If you've ever purchased a Frank Kern product, you know that he knows his stuff, and you know that he's an expert Marketer… It today's podcast episode I talk about my 2 biggest takeaways from re-reading Convert by Frank Kern, and explain to you why they're so important for you and your business.
In review, the 2 biggest takeaways from "Convert by Frank Kern" were…
1. You should always be focusing on building up your brand equity.
When you have brand equity, and Marketplace positioning, you can charge more for your products and services that your competition do, and in return make more money and have greater profit margins WITHOUT having to sell more goods or services.
Using the strategies taught in Convert by Frank Kern, you can build a business and brand that can support six and seven figure launches, by positioning yourself as the "goto" leader and authority in your Marketplace.
2. It's all about the offer. 
Instead of focusing on trying to become a perfect copywriter, or one of the top .05% at traffic generation, your time will be better spent by becoming a master at offer creation. If the offers good enough, people will buy no matter how poor your copywriting, and no matter how ugly your sales page.
Focus on building extra value around each of your offers that you create by offering time sensative bonus's, and rock solid guarantees. Focus on giving guarantees that are so good you make your prospect feel foolish for not at-least trying your offer.
In conclusion, if used in conjunction with each-other, the two points discussed above will do wonders for your business. Solid Marketplace positioning, and fined tuned offer creation are a recipe for big profits for you and your business.
Grab a copy of "Convert by Frank Kern" RIGHT HERE.
Did you get value out of today's episode, "Convert By Frank Kern, Convert Book Review" If so, don't forget to leave me a quick comment, and to share on Social Media!
To Our Mutual Success,
Misha Wilson
P.S. If You're Struggling To Generate Leads And Sales For Your Online Business, I've Been There, And Know Your Pain. Be Sure To Grab A Copy Of My Free Report, The 5 Pillars Of Profitable, Business Building Traffic, Where I Show You Exactly How I Broke Free Pain Of Pain, Frustration, And Overwhelm, And How I Now Generate Laser Targeted, Pre-Qualified Traffic That Turns Into 75-100 Leads Each And Every Single Day For My Business, And Exactly How You Can Too! 
Click here to download the report now…
P.P.S
Checkout My Facebook FanPage: https://www.facebook.com/marktingwithmisha
Follow me on Twitter: https://twitter.com/Misha_Wilson
Add me on G+: https://plus.google.com/+MishaWilson
Checkout my Youtube Channel: http://Youtube.com/thesmartermarketer

Misha Wilson is known as the youngest and fastest growing traffic and conversion expert on the Internet. He's known for his ability to bring hoards of cold traffic to any website he wants, and then convert that traffic into high ticket buyers and a group of loyal fan customers. If you're struggling to either get traffic to your website or convert your traffic into big sales, Misha is your guy.