DotComSecrets Review: A Review Of Russell Brunson's DotComSecrets Book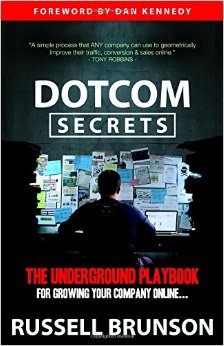 DotComSecrets Review: A Review Of Russell Brunson's DotComSecrets Book
Earlier this week (monday morning to be exact) I had the chance to sit down and dig into Russell Brunson's new book, DotComSecrets.
I had told myself that I'd give myself an hour to an hour and a half a day to read it, and would focus on completing my business activities as usual along with doing so…
That simply wasn't to be though. After sitting down for the first 25 minutes, I was completely hooked, and ended up reading it cover to cover by Tuesday afternoon. Russell's DotComSecrets is a full fledged, "no stone left unturned" college level education for Online Marketers. It covers just about everything you could ever need to know, and breaks down each critical component of an Online Business in a step by step format.
In today's post, I'm going to talk about a few of my biggest takeaway's, things I think many new Marketers are missing the boat on, and things I personally need to improve upon.
Let's dive in…
1. Attracting Your BEST CUSTOMERS
One thing that a lot of people forget when first starting their Online Business's is the importance of having a clear cut individual in mind that they want to work with… and also knowing who you DON'T won't to work with.
In DotComSectrets Russell shares that when he first started his Online Business he was trying to sell anything to anyone… and that while he made some money in doing so, he was still completely miserable. When he wanted to help people build real business's and scale operations, he was spending most of his time showing people how to setup domain names and purchase web-hosting.
Knowing who you actually want to work with, and then creating your Marketing around attracting JUST THOSE INDIVIDUALS is what will make your business an enjoyable day to day venture. Russell talks about the fact that for his coaching program, he only really wants to work with people already in the game, and individuals who are already making $50,000+ a year with their business's. So.. he creates all of his lead magnets around attracting JUST those individuals.
He explains that in creating his "108 Split Tests" free + shipping offer, he effectively attracted his ideal prospect, as someone who is newer to the game wouldn't even understand what a split test is, while someone who's actively Marketing and spending money on advertising would kill to know all of his various results. Russell created bait that turned off the people he didn't want to work with, and turned on the people he wanted to interact with.
What this means for you: Be aware of who your lead magnets are actually attracting. If you're promoting an opportunity, go the extra mile and create lead magnets and capture pages that attract people who you actually WANT to work with, vs. just using the pre-made templates that attract everyone. Be specific on who you really want to work with, and who you want on your team… and then create marketing pieces that JUST attract those individuals.
If you don't know how to create your own capture page, check this post… "Capture Pages: How To Create Capture Pages That Convert Like Crazy…"
2. The Attractive Character – 
Why is it that some people seem to effortlessly stand out from the crowd and amass large followings of people who absolutely love them, while others can seemingly do most everything right, yet never attain the kind of influence over others they'd like too?
Most likely, it's a lack of an "Attractive Character" persona in their business's. Russell Brunson breaks down the Attractive Character in DotComSecrets as the one thing that takes many people's business's from a couple of thousand per month, to tens of thousands, or even hundreds of thousands. It's your persona… but more specifically, it's the persona that your prospects will bond with, and that will make your prospects want to follow and buy from you.
Every Attractive Character has to have the following… A back story, character flaws, parables, and polarity. Each has a unique identity as either a leader, adventurer/crusader, reporter/evangelist, or reluctant hero, and each has a unique set of storylines that let their prospects connect with and relate to them.
If you look at any of the great Marketers that you follow, you'll notice that all of them have very well known stories… whether it be a story of loss and redemption (I lost everything but gained it back), a before and after story (before XYZ I was broke/fat/unhappy… after XYZ I'm rich/fit/happy), or stories of amazing discoveries (how I stumbled upon the Internet, and how to use it to generate an endless flow of red hot leads), I'll bet you that each has a story that you could recite to the tee. That didn't happen by accident. These Marketers consistently telling their stories is them building their own unique attractive characters, and them building a following a people who know like and trust them through being able to relate to their pains and struggles, stories of adventure, being the scenes secrets or amazing discoveries.
Also, most savvy Marketers tell their stories in a polarizing fashion, meaning that some people will love their stories and relate and bond with them strongly, and some will hate them. The polarity is what creates a strong tie to those who love your story… and is also what will keep those who dislike what you have to say around listening. Think about Howard Stern, or Rush Limbaugh. You either love them, or you hate them… there's no middle ground… but either way, when they come on the radio, it's hard to turn them off. 
What this means for you: no matter what your story may be… no matter how painful your past may be… or no matter how badly you may have screwed up in some area of your life… there are thousands of other people out there who can fully relate to your story, and who are waiting to follow you when you decide to tell it.
You telling your story is you beginning the process of building your attractive character.
There's a whole format for storylines, and exactly how to tell your story to the maximum of it's effectiveness, which you can learn through purchasing Russell's DotComSecrets book. I don't have time to fully break it down in this short DotComSecrets review.
3. Tailoring Your Language To Meet Your Traffic And Prospects Where They Are… 
In DotComSecrets Russell talks about the 3 different kinds of traffic…
Traffic that knows who you are (hot traffic)
Traffic that know's a joint venture partner of yours (warm traffic)
Traffic that doesn't know who you are (cold traffic)
He then talks about the importance of matching your language patterns to the level of knowledge your traffic body is at.
Example: If you run an Online Business, most likely your devout followers and customers (your hot traffic) know what "traffic" is (or we'll hope so:) and means. But the people on the outside, people just looking to get started with an Online Business, people who don't know who your are, and what you're business is about, might very well have no clue what you're referring to when you say "traffic", and their minds might immediately jump to that dreaded commute to and from work, where they'll immediately view "traffic" in a negative light.
In DotComSecrets Russell talks about the importance of pointing out that "traffic" simply means people when talking to your cold market, and to not assume that they know industry terms that you do.
This is a mistake that I personally was making. I had a pre-sell video that talked about "traffic", "capture pages", "sales videos" ect. that I was showing all of my cold prospects without ever digging in deeper and pointing out what the terms actually meant.
What this means for you: Always match your language patterns to your prospects level of knowledge. If you're speaking to cold traffic, explain what "traffic" is, explain what "capture pages" are, explain what "up-sells" and "down-sells" are and do. Meet your prospects where they are, both mentally, and physically,and your conversions will rise significantly.
4. Backend Profits
Throughout DotComSecrets, Russell talks a-lot about the "value ladder", and the importance of having each piece of the value ladder in place in order to maximize ROI and be profitable.
One thing I think a lot of newer Marketers don't understand is having a solid "backend" in place. Having a variety of up-sells, and high ticket offers in place that come after someone purchases your initial offer.
Up-sells and high-ticket items are offers that you present to your new customers after they've already purchased something from you on the front-end.
Most often, you actually lose money on the front-end, meaning that if you spend $500 on advertising, you're most likely not going to make that $500 back through front-end sales alone. But as Dan Kennedy says, a buyer is a buyer, is a buyer, meaning that once you create a customer who purchases your front-end offer, it's much easier to sell to them again, and again, and again, and again.
This is why it's important to have a solid backend, "ascension model" funnel in place.
Whether they be "done for you" services, one one one coaching, license rights to your products, or live events, backend offers are critical to have in your value ladder and sales funnel in order for you to be profitable, or even just break even.
5. Giving Value Upfront
Throughout DotComSecrets, Russell consistently talks about the importance of giving value to your prospects and customers. He talks about creating lead magnets that give value, and how you should deliver 10X more value than what you charge for in each of your products.
Doing so will in turn lead to more repeat business and customer loyalty.
The best example of this is the book itself.
Russell's DotComSecrets was a full fledged nothing held back Online Business curriculum in of itself. Yet… It was free. The book itself was a free + shipping offer, meaning that all you had to do was pay for shipping, and he'd give it to you for free.
Upon purchasing, there were a few up-sells, one of which I purchased, and then the book it-self sold a few other offers.
Throughout the entire book, Russell talks about sales funnels, and then at the end, explains "ClickFunnels" (his sales funnel software), and exactly how it can streamline you building your sales funnels.
Throughout the entire book he breaks down each and every component of a successful Online Business, and explains exactly how each piece works with each-other, and the importance that each one plays. Then at the very end, he offers his coaching service as a "shortcut" for you to implement what you leaned in DotComSecrets.
He gave tremendous amounts of value upfront, and then simply asked for the sale after he had demonstrated his value and proved that he could actually help.
In conclusion: All in all, Russsell Brusons DotComSecrets book was one of the better books on Marketing I've ever read. It covered every aspect of a successful Online Business head to toe, and left no stone unturned. If you haven't read the book yourself, or were for some reason hesitant when it came to ordering, I'd highly recommend you pickup your copy RIGHT HERE. I know you'll love it. You can also check out Russels podcast HERE. 
Did you get value out of today's post, "DotComSecrets Review: A Review Of Russell Brunson's DotComSecrets Book"? If so, don't forget to leave me a quick comment letting me know what your biggest take-away was, and don't forget to share on Social Media!
To Our Mutual Success,
Misha Wilson
P.S. If you've ever wondered where to start when it comes to building skillsets… Start with Elite Marketing Pro RIGHT HERE!, the system through which Ive learned most everything I currently know about Marketing. FAIR WARNING THOUGH: Getting Good at Anything takes time and effort. THERE IS NO MAGIC BULLET.
P.P.S Let's connect!
Checkout My New Facebook FanPage: https://www.facebook.com/marktingwithmisha
Follow me on Twitter: https://twitter.com/Misha_Wilson
Add me on G+: https://plus.google.com/+MishaWilson
Checkout my Youtube Channel: http://Youtube.com/thesmartermarketer

Misha Wilson is known as the youngest and fastest growing traffic and conversion expert on the Internet. He's known for his ability to bring hoards of cold traffic to any website he wants, and then convert that traffic into high ticket buyers and a group of loyal fan customers. If you're struggling to either get traffic to your website or convert your traffic into big sales, Misha is your guy.