Elite Marketing Pro: Daily Dose Of Awesome Call, 6/6/2014 Misha Wilson And Chef Katrina…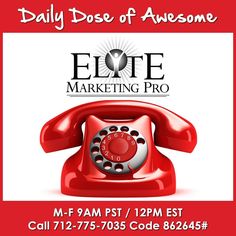 Elite Marketing Pro: Daily Dose Of Awesome Call, 6/6/2014 Misha Wilson And Chef Katrina…
Many of you who have been following me for a while know that I absolute SWEAR by Elite Marketing Pro, and everything that the Elite Marketing Pro group does for aspiring Online Entrepreneurs.
In my opinion, Elite Marketing Pro is by far the most whole, and well rounded system, offering equal amounts of income opportunity, community, and genuine care for the members who become involved. With amazing leadership, amazing products, amazing community, and a group of rockstar Marketers in Tim Erway, Ferny Ceballos, and Matt Crystal at the helm, you simply can't go wrong with Elite Marketing Pro, and all that it has to offer.
And that's why when Chef Katrina asked me to present for the "Daily Dose Of Awesome" call this morning, I was more that happy to pitch into the fun, and do what I could to add more value to the community… Even if it was so early I could barely keep my eyes open. 🙂
Here's the recording of today's Elite Marketing Pro "Dose Of Awesome" call, where I cover what in my opinion should me your BIGGEST OBJECTIVE when first getting started Online, a few of the things that held me back, and a few of the crucial mistakes that hold most new Marketers back when getting started.
Enjoy…
If you get value out of today's call, "Elite Marketing Pro: Daily Dose Of Awesome Call, 6/6/2014 Misha Wilson And Chef Katrina…" Don't forget to leave me a quick comment, and to share on social media!
To Our Mutual Success,
Misha Wilson
P.S. If you're not a member of Elite Marketing Pro yet,… Start with Elite Marketing Pro RIGHT HERE!, As a member you'll get: the most comprehensive suite of information products available on the Internet to learn any skill-set you resonate with and want to learn, one on one coaching to get you into profitability with your Online Business FAST… and the best community and support system around to support you and your entrepreneurial endeavors.
P.P.S Let's connect!
Checkout My New Facebook FanPage: https://www.facebook.com/marktingwithmisha
Follow me on Twitter: https://twitter.com/Misha_Wilson
Add me on G+: https://plus.google.com/+MishaWilson
Checkout my Youtube Channel: http://Youtube.com/thesmartermarketer

Misha Wilson is known as the youngest and fastest growing traffic and conversion expert on the Internet. He's known for his ability to bring hoards of cold traffic to any website he wants, and then convert that traffic into high ticket buyers and a group of loyal fan customers. If you're struggling to either get traffic to your website or convert your traffic into big sales, Misha is your guy.