Home Based Business Strategies… Ending The Overwhelm And Frustration Once And Fore-All…
Quote of the day: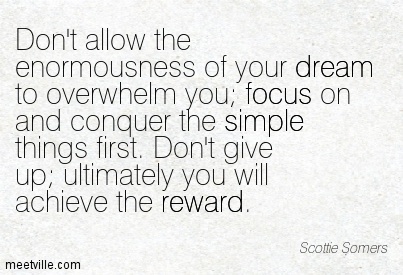 Building and becoming profitable with a home based business can be a very daunting, and often overwhelming task when first getting started…
There are many tactics, strategies, and and general business principles you have to learn in order to be successful with a home based business, just like any other business.
You're often times overwhelmed with trying to learn new skill-sets, and often times there's no action plan for you to follow in order to see quantifiable results in your business.
You can spend hours upon hours upon hours a day on your business, yet see little if any results in your Home Based Business.
The truth is though… That running a home based business successfully can actually be VERY SIMPLE when you understand the basics, and when you understand one key principle…
The only way you'll get paid is by PRODUCING. 
Producing, producing, producing is literally the ONLY thing that will get you paid, yet is still the single thing many people have trouble with.
The key… FOCUSING ON BEING PRODUCTIVE, VS. FOCUSING ON BEING BUSY… in your Home Based Business.
In being focusing on being productive with your home based business, you force your self into a state of action, that WILL INEVITABLY lead to results.
Then after you've produced a result, you can measure your success, and adjust your action plan from there.
The main thing is to always focus on being productive with your home based business vs. being busy, and to get into action mode as quickly as humanly possible.
Did you get value out of today's post, "Home Based Business Strategies… Ending The Overwhelm And Frustration Once And Fore-All…"? If so, don't forget to comment, and to share on Social Media!
To Our Mutual Success,
Misha Wilson
P.S. If You're Struggling To Generate Leads And Sales For Your Online Business, I've Been There, And Know Your Pain. Be Sure To Grab A Copy Of My Free Report, The 5 Pillars Of Profitable, Business Building Traffic, Where I Show You Exactly How I Broke Free Pain Of Pain, Frustration, And Overwhelm, And How I Now Generate Laser Targeted, Pre-Qualified Traffic That Turns Into 75-100 Leads Each And Every Single Day For My Business, And Exactly How You Can Too! 
Click here to download the report now…
P.P.S
Checkout My Facebook FanPage: https://www.facebook.com/marktingwithmisha
Follow me on Twitter: https://twitter.com/Misha_Wilson
Add me on G+: https://plus.google.com/+MishaWilson
Checkout my Youtube Channel: http://Youtube.com/thesmartermarketer

Misha Wilson is known as the youngest and fastest growing traffic and conversion expert on the Internet. He's known for his ability to bring hoards of cold traffic to any website he wants, and then convert that traffic into high ticket buyers and a group of loyal fan customers. If you're struggling to either get traffic to your website or convert your traffic into big sales, Misha is your guy.