How To Followup For Maximum Profit…
One of my favorite quotes is, "The Moneys In The List But the Fortunes In The Followup". It couldn't be more spot on, and when I took it to heart, it completely and totally adopted that mindset in my business, my profits went through the roof.
The truth is that on average, someone has to see your website 7-11 times before they even know you exist (yes, 7-11 times). So if you're paying for traffic and only sending a few followup e-mails, and then more or less leaving it at that, well, you're leaving a TON of money on the table.
In todays blog post I want to take a few minutes and talk about THE MOST EFFECTIVE way to followup for 99% of the individuals who make up this marketplace.
If you DON'T run multi-million dollar product launches
If you DON'T host webinars that bring in tens of thousands of dollars on a weekly basis (even though you SHOULD start hosting webinars)
And if you DON'T want to wait 6-12 months in order to break even on your ad-spends
This blog post WILL be for you.
So, what's the most effective, AND the most simple way to followup with your leads for sales and profits.
The short answer:
Talk Radio E-mail

When implemented correctly, talk radio e-mail will allow you to get your offer in front of your leads over and over and over again, WHILE making your list MORE responsive, and while building a community of people who love to hear from you.
So, let's dive into how it works…
Talk radio e-mail revolves around e-mailing your list 2x per day… Once with content and value, and then once with an ad. Your content or piece of value goes out in the morning, and then your ad goes out in the evening.
The best metaphor for how this followup strategy works is a simple radio show (hence the name, talk radio e-mail). When you turn on the radio station, they give you irresistible content to keep you around, and then you sit through the ads in order to continue getting there content. A percentage of people who resonate with the ad end up buying, a percentage of the people who didn't like the music enough to stay switch channels, and a large percentage hang out and simple wait for the songs to beging playing again.
With talk radio e-mail the exact same concept applies.
You send your list value based e-mails, blog posts, podcast episodes, youtube videos, and so on and so forth… And you do that in the MORNING (8AM eastern time for the strategy to work best). The sole goal of this e-mail is to provide value, entertain, and genuinely help your prospects move forward in there journey. You want this e-mail to be good enough that if someone doesn't end up resonating with the ad that you send in the evening, they still stick around and remain an e-mail list subscriber. 
Then, in the afternoon (3PM eastern time works best), you send a short, punchy, link filled e-mail with the sole goal of bringing people back to your sales page. A certain percentage of people buy your product, a certain percentage of people don't do anything, and a certain percentage of people unsubscribe from your list (which is actually a good thing).
Why it works so well…
As you can see, with this strategy your both providing a TON of value to your e-mail list subscribers on a daily basis, while at the same time you're constantly putting ads in front of them in order to give them the chance to make a buying decision.
If you're content is good (it's up to you to make sure you're providing real value), you'll be building a rock solid relationship with your list, and most people will be fine with you sending them an ad in the evening. Even if they don't buy that day, you've actually built a stronger relationship with your list through the AM e-mail, and they're more likely to buy in the future when you send another P.M. ad based e-mail.
Next, a certain percentage of people will see your e-mail and WILL buy your product… Meaning more sales for you (that's never a negative).
And finally, the hidden benefit is that you put in place a perpetual "done for you" list cleaning system. Here's what I mean: When you e-mail 2x per day, you create a "self cleaning oven" effect with your list. The people who like your content and who resonate with you who are stick around, and then people who don't like your content and aren't into what you have to say leave.
Most people look at this as a negative, while in fact, it's actually a positive. If they don't like what you have to say with your content, chances are they they'll NEVER buy anything in the future anyway. Why have them on your e-mail list? The more subscribers you have on your e-mail list, the bigger your monthly autoresponder bill. If they aren't going to buy (which they won't if they don't like your content), let them opt-out and leave your world. You'll have less of a bill with your AR service, you'll have less hate mail, and your engagement will stay sky high (the people who do like your stuff will open and click), hence better open and click thru rates in the future when people continue to open and read your stuff.
With talk radio e-mail, you can get a TON of sales messages in front of your target market while simultaneously building a more responsive e-mail list that loves what you have to say and looks forward to your messages, WHILE making a ton of sales and cleaning your list of the freebie seekers that you don't want to deal with in the first place.
Whether you love the idea of talk radio e-mail or not, know this…
If you DON'T run multi-million dollar product launches
If you DON'T host webinars that bring in tens of thousands of dollars on a weekly basis (even though you SHOULD start hosting webinars)
And if you DON'T want to wait 6-12 months in order to break even on your ad-spends
…And if you DON'T implement talk radio e-mail as your followup strategy…
You'll be leaving a TON of money on the table.
Note: If you'd like me to do 100% of all of the hard work for you in your e-mail followup…
To the top,
Misha Wilson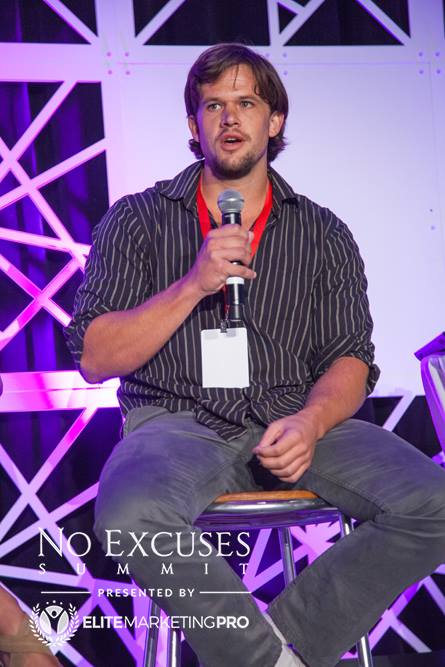 P.S. To checkout the person who I learned all of my followup strategies from, and to get his exact take on the matter, click here to checkout Daegan Smith's blog, and to hear his take on Talk Radio E-mail.
P.P.S
Lets connect!
Add me of Facebook: https://www.facebook.com/8misha0wilson8
Check My Brand New Youtube Channel: https://youtube.com/thesmartermarketer
Add me on Twitter: https://twitter.com/Misha_Wilson
Add me on G+: https://plus.google.com/+MishaWilson

Misha Wilson is known as the youngest and fastest growing traffic and conversion expert on the Internet. He's known for his ability to bring hoards of cold traffic to any website he wants, and then convert that traffic into high ticket buyers and a group of loyal fan customers. If you're struggling to either get traffic to your website or convert your traffic into big sales, Misha is your guy.