Today I witnessed the best real life example of how a business or brand can separate themselves from the masses I've ever seen, and just how powerful the process can be when executed correctly.
So, it was 1:30 in the afternoon, and my housemate Ryan and I were starving. We didn't have any food in the house, and were to hungry to take the time and go shopping and then come home and make something… So a restaurant it was. Ryan said that a new "Corner Bakery" had opened up just a couple of minutes away from the house, and that he had been wanting to try it for some time.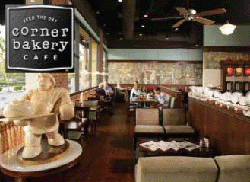 We hopped in his car and were on our way.
The restaurant itself was very pleasant, and had a variety of "Home Cooked" style foods with both healthy options as well as comfort food. Everyone that was working looked like they were enjoying themselves and the customer service was good.
At this point it already had 70% of all other "Lunch Style" restaurants beat with its "homie atmosphere", great food, and good looking nice workers, but what would prove most impressive would come right after we ate.
Ryan ordered a "Shrimp Pesto Alfredo" style pasta (I don't know the exact name), and when it arrived at the table it looked DELICIOUS. A full, rich pesto cream sauce, macaroni noodles, and 6 Jumbo Shrimp grilled up and thrown on top (and yes I was thinking that I ordered ALL WRONG when it showed up :)).
Ryan took a quick photo of his beast of a meal before digging in, and posted it on Instagram with the Hashtags #CornerBakery, and #Yum.
About 10 minutes later both meals were gone and two grown men were satisfied and ready for a nap. 🙂 But thats when it happened…
Ryan looked down at this phone to see that "Corner Bakery Official"  had liked his photo, shared his photo, followed him on Instagram, and commented "Yum, looks good. Enjoy!". 
Ryan and I were blown away. In the 10 minutes in between the photo being posted and us stuffing in our food, Corner Bakery had found his post, liked it, shared it, commented on it, and followed Ryan. BUT MOST IMPORTANTLY, they had given a customer a positive experience which they had NEVER HAD BEFORE, which showed their appreciation and gratitude for our business.   
Meaning… They had INSTANTLY separated themselves from the masses by providing a unique and positive experience which centered around making their customer feel important.
Lets be real clear, Corner Bakery didn't have to like, comment, or share. We had already bought our meals, and based on the food quality would most like be coming back for more. BUT… them going the extra mile… ensures that Ryan and I will keep going back until were sick of EVERYTHING on the menu!
So keeping this example fresh in your mind, I ask you, "What are you doing to stand out from the crowd? What extra experience are you giving your prospects and customers that will keep them coming back for more? How are you making your customers feel appreciated and special which will lead to repeat sales and them referring you to their friends?"
While there's no one correct answer for the questions above, here's some ideas to get your creative juices flowing:
Focus On Optimizing Your Followup Campaign. Followup is one of the most critical aspects of your Internet Marketing. Checkout This Article where I talk more about the importance of Followup.
Add Each New Lead Who Subscribes To Your E-mail List As A Friend On Facebook. Take a little extra time and get personal with each of your subscribers. Ask them how their Marketing is going and take the time to ACTUALLY LISTEN. Provide input on the topics in which you're familiar with, and be honest with them when you don't know how to fix a problem. People trust REAL. So BE REAL, and the trust and loyalty of your audience will follow.
GIVE, GIVE, AND GIVE Some more without needing or caring about getting anything back. Remember, your income is a direct reflection of how many people's lives you add value to. Look at the chance to take some time to help a fellow Marketer as a blessing…. After-all, you reap what you sow. For more on Attraction Marketing, checkout Mike Dillards E-book HERE.
Realize that each and everyone of your prospects ARE HUMAN BEINGS. They have wants and needs… figure out what they are, and provide a service that TRULY HELPS THEM. It's fine to charge for the service… It's natural actually, but try to follow the 10-1 rule with your info products. Give 10x more value than what your price tag reflects. So if you're going to charge $100, make SURE you deliver at-least $1,000 worth of content in your product.
Retarget your e-mail list to some of your best blog posts and content with Fbook ads using a custom audience. Familiarity breeds trust. Get in front of your audience in as many ways humanly possible, and it'll appear as if "your everywhere". And when people start to see you everywhere, they naturally think you know your stuff.
Remember, these are just ideas to get YOUR OWN creative juices flowing. Do yourself a favor and brainstorm about how you can provide your prospects and customers a UNIQUE experience… An experience unlike one they've ever had before, which will leave them in AWE OF YOUR AWESOMENESS. 🙂 
Figure out what that process entails, and you're assured to rise to the top very quickly, and look a whole hell of a lot cooler along the way. 🙂
To Success, Yours and Mine. 
Misha Wilson
P.S. What did you think about me and my housemates experience at Corner Bakery? How do you plan on giving extra value and experience to your customers that'll keep em coming back? Let me know with a comment below! I love hearing all of my readers feedback, and it helps me a ton. 🙂

Misha Wilson is known as the youngest and fastest growing traffic and conversion expert on the Internet. He's known for his ability to bring hoards of cold traffic to any website he wants, and then convert that traffic into high ticket buyers and a group of loyal fan customers. If you're struggling to either get traffic to your website or convert your traffic into big sales, Misha is your guy.