Who Ever Said Money Can't Buy You Happiness?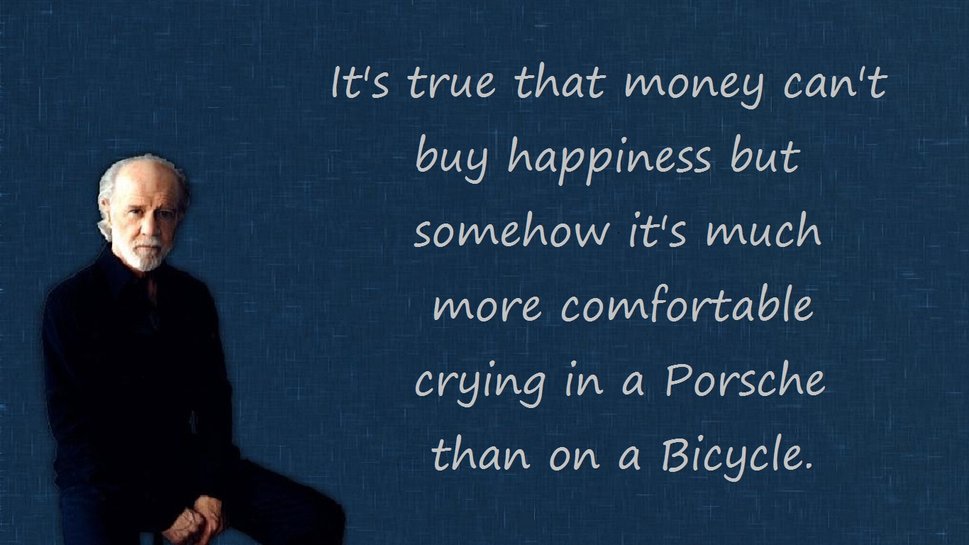 As you read this entire post, realize that I've written it from a very unique position, which gives me a very unique perspective that not many people have…
A year and a half ago I was flat broke… I had committed myself to this whole Internet Marketing thing, but things had yet to pan out. I was 22, and I had to move out of my dads house, but couldn't find anywhere I could afford to live here on Maui, HI, as rent here is sky-high for the bare essentials.
I packed up my stuff and moved out to Las Cruces, New Mexico where a good friend of mine was living and going to college. Rent there was $400 a month, and it was still a struggle due to my stubbornness in not wanting to get a job (a mentor had told me if I quit my job and forced myself to go full-time, good things would happen).
I barely made ends meet, and at times had to get money fronted from my father for the rent or for groceries, while I waited for a few measly affiliate commission checks to show up in the mailbox.
Times were tough financially, and there were most definitely those moments at the grocery store where I had no clue if my debit card would be accepted or denied.
I had almost nothing to my name, except for a kind of blind faith that sooner or later I'd make it happen.
I got myself onto every late night webinar I could and went through every training course I could. I started applying what I was learning and building new skill sets, and happen to stumble upon the right opportunity which fit my skill sets perfectly at the right time, and ran hard with it.
I went from doing nothing, to 3k/month, to 5k/month, to 10k a month, to last month doing just under 17 thousand.
Since the beginning I've done JUST under six figures with that primary opportunity, and have a few others where I've done anywhere from 10k to 40k with.
At this point I've picked a ton of enough momentum, and continue to build more every day that seems to simply feed into itself.
But in all honesty, I'm still not completely used to it. There's a hint of that scarcity mindset from being in such a tough spot in what feels like just yesterday.
So… here's my take on the whole "Money Can't Buy You Happiness" coming from my unique situation…
Since breaking through in my online business and now building a six figure income, I simply have more options. There are more doors that are open to me, and I can control my own circumstances in a much more powerful way… And that in turn allows me to be more happy, more often. 
As an obvious example, I was able to move back to Maui, HI, where I'm from and where I love living. With my previous financial constraints, that simply wasn't possible. Did money buy me happiness is this example? No… but it bought me the option to live a reality that makes me happy every day.
Just about 2 weeks ago, my housemate who was also one of my best friends, was forced to move out and head back to the mainland. I'm a "people person", and don't really like living alone, especially considering that all of my work is done on the laptop, in complete isolation. So, after living alone and finding myself somewhat lonely for the last couple of weeks, I extended an offer to my other good friend to have him move in and take the extra room at a discounted price. I win because I have another one of my friends around whom I love, and I save a size-able portion of what extra I would have had to pay extra for rent taken away.
So did money buy me happiness in this example? No… but it bought me the option to have a living situation that I enjoy which wouldn't have been available if I was more strapped for cash.
Not having to deal with a pain in the ass boss and work a nine to five is another obvious option that having my own business that supports me gives me.
So… in conclusion what I'd say…
If you're an unhappy person and seeking out money to solve your problems and relieve you from your emotional pain, no, money won't help with your happiness issues. You can get as rich as you want and buy as many nice things as you want, but you'll be trying to solve a problem with the wrong solution.
If however, you're naturally a happy person but are simply strapped for cash in your current situation, then money can buy you more options, and in my experience, more options can bring you more happiness.
Did you get value out of today's post, "Who Ever Said Money Can't Buy You Happiness?"? If so, don't forget to leave a quick comment and to share on social media!
To Our Mutual Success,
Misha Wilson
P.S. If You're Struggling To Generate Leads And Sales For Your Online Business, I've Been There, And Know Your Pain. Be Sure To Grab A Copy Of My Free Report, The 5 Pillars Of Profitable, Business Building Traffic, Where I Show You Exactly How I Broke Free Pain Of Pain, Frustration, And Overwhelm, And How I Now Generate Laser Targeted, Pre-Qualified Traffic That Turns Into 75-100 Leads Each And Every Single Day For My Business, And Exactly How You Can Too! 
Click here to download the report now…
P.P.S
Checkout My New Facebook FanPage: https://www.facebook.com/marktingwithmisha
Follow me on Twitter: https://twitter.com/Misha_Wilson
Add me on G+: https://plus.google.com/+MishaWilson
Checkout my Youtube Channel: http://Youtube.com/thesmartermarketer

Misha Wilson is known as the youngest and fastest growing traffic and conversion expert on the Internet. He's known for his ability to bring hoards of cold traffic to any website he wants, and then convert that traffic into high ticket buyers and a group of loyal fan customers. If you're struggling to either get traffic to your website or convert your traffic into big sales, Misha is your guy.