<<<<<<<<<<<<<<<<<< Don't forget to share the love. 🙂
"Misha, How Do I Get More Traffic To My Website?"
(If you prefer watching video over reading, checkout todays Facebook live recording at the bottom of this post).
The question I get asked above and beyond all else is, "Misha, how do I get more traffic to my website?". It's a valid question, and I understand why people would ask it. The truth of the matter is that if you don't have traffic coming to your websites, you'll never build your list, never make sales, and never grow a successful Online business.
The simple answer would be, "I use Solo Ads for all of my traffic generation".
BUT, that wouldn't be doing you justice, considering that the question in of it-self is actually the WRONG question to ask.
Asking that question… "Misha, how do I get more traffic to my website?" will keep you stuck, overwhelmed, spinning your wheels, and in the long run will keep you from breaking through.
One of the most valuable lessons I've ever been imparted with is, "The quality of your life will be directly proportionate to the level of questions you ask".
If you ask all the wrong questions, even if you get your answers, you'll never create what you're actually looking for based on the fact that the question in of itself was off to begin with.
It's like trying to solve a problem with the wrong solution. No matter how good that solution is, nothing will happen based on the fact that it's the WRONG solution for your problem.
The question above… "Misha, how do I get more traffic to my website?" is the WRONG question to ask.
It's a question based on seeking opportunity vs. being a strategic entrepreneur, and it's a question that won't serve you long term.
Today, I want to share with you the RIGHT question to ask.
A question based out of being a strategic entrepreneur, and a question that WILL serve you immensely.
The question you should be asking…
"How do I convert more of my website visitors into sales and profit more than anyone else, and in turn, make getting traffic a non-issue?"
See, when you focus all of your effort on figuring out how to convert your traffic into leads, sales, repeat sales, ascending sales, and thus profits… Getting traffic to your website becomes a non issue.
If you know that based on your conversion mechanism and metrics that you can spend $5 to acquire a lead and then still be profitable, you can then simply go out and and pay for as much traffic as you want (as long as you continue to generate leads for under $5), and then be profitable on the backend.
When you know for a fact that every lead will be worth $5 for your business, you have the freedom to scale your business based on tried and true MATH (numbers don't lie).
So, that's what you do… But how do you do it?
You focus on everything that takes place AFTER a lead is generated and brought onto your list.
You e-mail your list every single day (if not 2x per day).
You host weekly webinars where you promote your offers.
You create content that builds a relationship with AND sells your offers to your new list.
You create new offers (or bonus offers) and present them to your list with regularity.
You get on the phone with your leads and close them into your programs over the phone.
YOU FOCUS ON EVERYTHING THAT WILL ALLOW YOU TO MAKE YOUR LEADS MORE VALUABLE.
When you focus on those things you'll find that you can out convert near everyone in the marketplace, and that getting traffic will become a non issue.
Actually, you'll even be able to pay someone else in order to drive your traffic for you (as I now do in my own personal business), so you can focus on enjoying your life, and spending the quality time you want with your friends and family.
For now, remember two things…
1. The quality of your life will be directly proportionate to the quality of questions you ask.
2. The key to getting as much traffic as you want, whenever you want, is to focus on your CONVERSION MECHANISMS that will allow you make more per every single lead that comes onto your list, and hence be able to spend more on your traffic campaigns than anyone else.
Note: If you want me to do all of the hard work FOR YOU (I'll write the e-mails, I'll host the webinars, I'll create the content, my team will make the phone calls, and when we close sales, you'll keep the commissions)…
Click right here and join The Super Affiliate Network now.
It's the path of least resistance in your Marketing journey, and will allow you to tap directly into a team of 6, multiple 6, 7 and even multiple seven figure earners who will do all of the hard work FOR YOU.
Click here to get started right now.
For the video recording…
Did you get value out of todays post, ""Misha, How Do I Get More Traffic To My Website?"? If so, don't forget to leave her a quick comment congratulating her on her success!
To the top,
Misha Wilson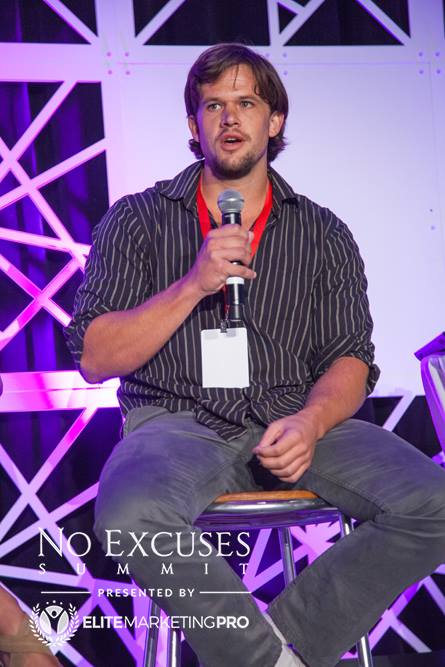 P.S
Lets connect!
Follow me on Facebook: https://www.facebook.com/marktingwithmisha
Check My Brand New Youtube Channel: https://youtube.com/thesmartermarketer
Add me on Twitter: https://twitter.com/Misha_Wilson
Add me on G+: https://plus.google.com/+MishaWilson

Misha Wilson is known as the youngest and fastest growing traffic and conversion expert on the Internet. He's known for his ability to bring hoards of cold traffic to any website he wants, and then convert that traffic into high ticket buyers and a group of loyal fan customers. If you're struggling to either get traffic to your website or convert your traffic into big sales, Misha is your guy.